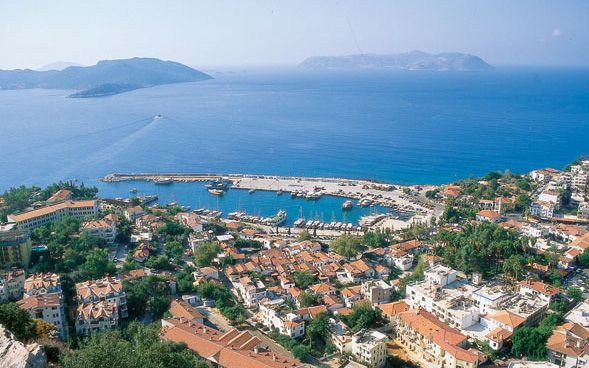 I have been there in 2014, August. As you assumed, Kaş is one of the touristic places of Turkey. And of coırse, Antalya is also one of the most beautiful places of Turkey especially for summer tourism. We will return this later. Let's go on with the specs of Kaş…
Town: It's a cute little town, so this is the first unusual spec of Kaş when you think those other touristic places of Turkey, but not the last one. It's a seaside town, population of the town about 60.000 people. Town center established in the foothills, thus all houses of the town are disorganized, streets and roads are very messy. That's why finding your way in the town is a little harsh sometime.
Hotels: There is not a lot of places to spend your holidays with just staying in it. In town center, you can find a couple of little hostels. But if you are looking for the holiday resorts or grand hotels, you are in the wrong place. One of the biggest hotels in town is a practice hotel. (which is also where I stayed when I was there.) It was not perfect, but also not so bad. It was 'OK'.
Here it is:
Name of the hotel: Paradise Garden
Rooms: I can say that, best part of this hotel is the rooms. Rooms are comfortable and well organized. If you are looking for a place to just spend the night, this place is cheap and comfy. (Room charges about €20-€25 per person for a night)
Bads:
You need a car for even go to the beach from there.
You have go to the beach earlier than others, because the hotel's facilities open for everyone. When you think that this place is the one of the biggest places of the town, you may see maybe hundred of peoples in the queue. (of course if you're late)
Yes, hotel has facilities. But don't be so cheerful, facilities means a place to eat or drink something, and another place to take a shower. Well it has a pool too.You can swim at the pool, If you can find that courage in yourself…
Foods: Below the average but eatable.Drinks: Same as anywhere.
Btw, here is 'The Facilities':
Trust me, its not good as you see. Don't trust the pictures(!).
Good(s):
It's still a place to stay.
Who may like this hotel:
People who are retired and/or older than fourty, lets make it fifty..
People who are just looking for a place to spend night,
Foods: One good thing is that you can always find fresh sea foods to eat anytime you want. There is a lot of restaurants that you can find traditional foods or sea foods in town. So, foods and drinks are not a problem. You can find a place as good as you are looking for in town center.
My favourite: Smiley's
Great service, delicious meals…
Sea: That was the greatest view I've ever seen. It was like an aquarium. It was a little bit salty but, you are not going to drink it of course. So you have to swim in that beauty. Trust my words…
Or just check this picture:
Overall: Just grab your tents, take your best friends with you and trip to this little cute town in Antalya, Turkey.